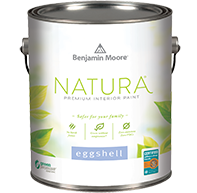 At Nankin Hardware we carry Benjamin Moore paints. Benjamin Moore paints has been in business since 1883, and they produce the highest-quality paints and finishes in the industry today.
Our paint experts at Nankin Hardware can help you decide which paint is right for you and your project. From flat to semi-gloss we have all the types of paint you need to finish your next painting job with high quality results.
We carry all types of Benjamin Moore paints such as Aura Interior paint, Regal Select Interior paint, Natura paint and many more. Along with Benjamin Moore paints, Nankin Hardware carries all your painting supply needs from brushes to ladders, we have everything you need.

Benjamin Moore Paints offer rich colors, that coat walls easy and effort free. Along with the paint we also sell primers and stains. If you have any questions about your next paint job, give us a call at (734) 722-5700. We can answer all your painting questions!